Citizens!
We prepared plenty of new screenshots for you, including a brand new Crimson biome (placeholder name, for now).
Crimson biome during the Storm

It's a beautiful yet dangerous land colored in a strange shade of crimson. It's often referred to as the Herb Garden of the Kingdom – due to the abundance of herbs, berries, and roots. It's as wet as other biomes but much warmer, which makes it a perfect habitat for Lizards.
It's the game's third revealed environment. You will also settle the unforgiving Marshlands, also known as the Mushroom biome. The cold climate makes it harder for villagers to survive and work there.
Upgrading roads on the Marshlands

Last but not least, there are the Royal Woodlands. Those are the Queen's forests which are rich in wood, vegetables, and mushrooms. The soft and fertile soil makes it a perfect place for growing crops.
Growing crops on the Royal Woodlands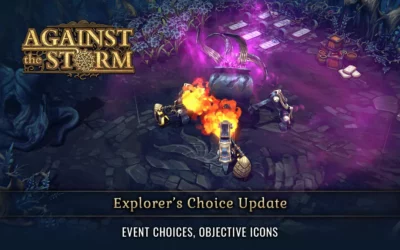 Greetings, Viceroys! We have a new update or two coming your way. Here's what's new in today's Explorer's Choice Update: Event Choices system (glade...
read more