Dear aspiring Viceroys!
It's about time to take the first steps into the wondrous yet perilous world of Against the Storm in the updated Demo version of the game.
Venture into the Royal Woodlands — the game's first of five biomes — and build settlements inhabited by resourceful beavers, lizards, and humans. Download the demo now from Epic Games Store:
ABOUT THE DEMO
Against the Storm – Royal Woodlands offers an unlimited number of playthroughs in the game's first biome – the Royal Woodlands. The remaining biomes — as well as additional buildings, perks, upgrades, and systems — are available in the Early Access version (out now on Epic Games Store).
Manage the growing population of beavers, lizards, and humans, while tending to their needs and taking advantage of their specializations. Learn to tame the three rain seasons and explore nearby glades to expand your settlement and discover hidden treasures. But beware! The dangers await 
Define your goals for each game by carefully picking new orders from the mysterious Scorched Queen. Make choices as you play: which building blueprint do you want to receive as a reward? Which perk will help your city grow over the years? Which group of villagers will you let into your settlement? The prosperity of your villagers relies on decisions.
Complete two tutorial maps to unlock access to the World Map where you can earn and spend your meta-resources on 4 levels of Smoldering City Upgrades. Your meta progress will transfer from the demo to the full version.
ABOUT EARLY ACCESS VERSION
Banished meets Slay the Spire
Against the Storm is a roguelite city builder set in a fantasy world where it never stops raining. You are the Scorched Queen's viceroy — a pioneer sent into the wilds to establish and manage new settlements inhabited by beavers, lizards, and humans.
What's included in the full version?
90x Buildings & Decorations

5x Biomes

50x Smoldering City Upgrades

Deeds

World Map Phases

Factions

Orders (more)

Traders (more)

Perks (more)

Glade Events (more)

Improved game balance

and other features!
Since its October 18 release, Against the Storm received 5 bi-weekly content updates so far, including two new biomes, new systems, decorations, and other features. As a result of the latest Community Vote, we're also working on the fourth playable species: Harpies. For more information about the released and upcoming updates, please read the Roadmap article.
JOIN THE COMMUNITY
Join us and other players on Discord and Reddit to discuss the game, suggest new features, or simply hang out. Follow us on your preferred social platforms to stay up to date with the game news:
We wish you lots of fun with the demo and the Early Access version!
May the storm be gentle on you,
Eremite Games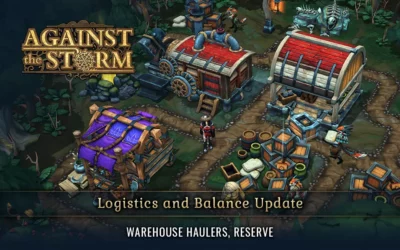 Greetings, Viceroys! We're back with yet another portion of features, UX improvements, and balance changes to keep you on your toes. What's new:...
read more