Dear Viceroys!
We're happy to present the roadmap of upcoming changes in the first quarter of Early Access.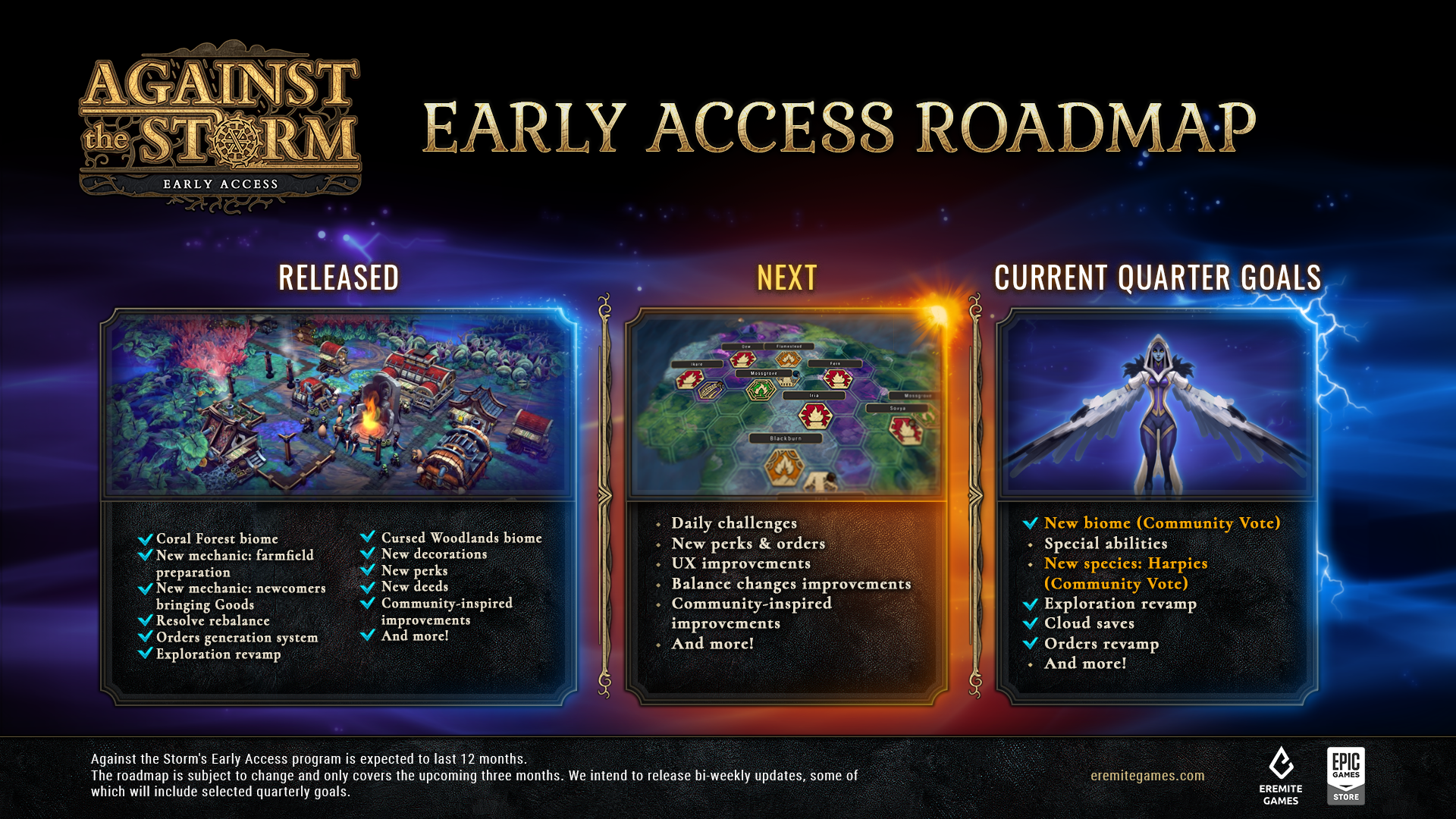 Last updated: December 20, 2021.
Next Update
We do our best to release meaningful updates every two weeks followed by smaller hotfixes or patches if necessary.
We're back from the holiday break and continue the tradition of bi-weekly updates. Due to the break and the team's involvement in designing the playable Harpies, in this update we'll focus on various User Experience and Quality of Life changes that you reported. We're utilizing the suggestions list (over 1100 entries) to make the gameplay better and give you more control.
Join the community and keep your eyes open for sneak peeks:
Current Quarter Goals
Against the Storm's Early Access program is expected to last for 12 months. Every 3 months, we will share quarterly goals which we want to achieve with bi-weekly updates.
Quarterly goals (1/4)
✔ New biome: Coral Forest (Community Vote)
Special abilities
New species: Harpies (Community Vote)
✔ Exploration revamp
✔ Cloud saves
✔ Orders revamp
And more!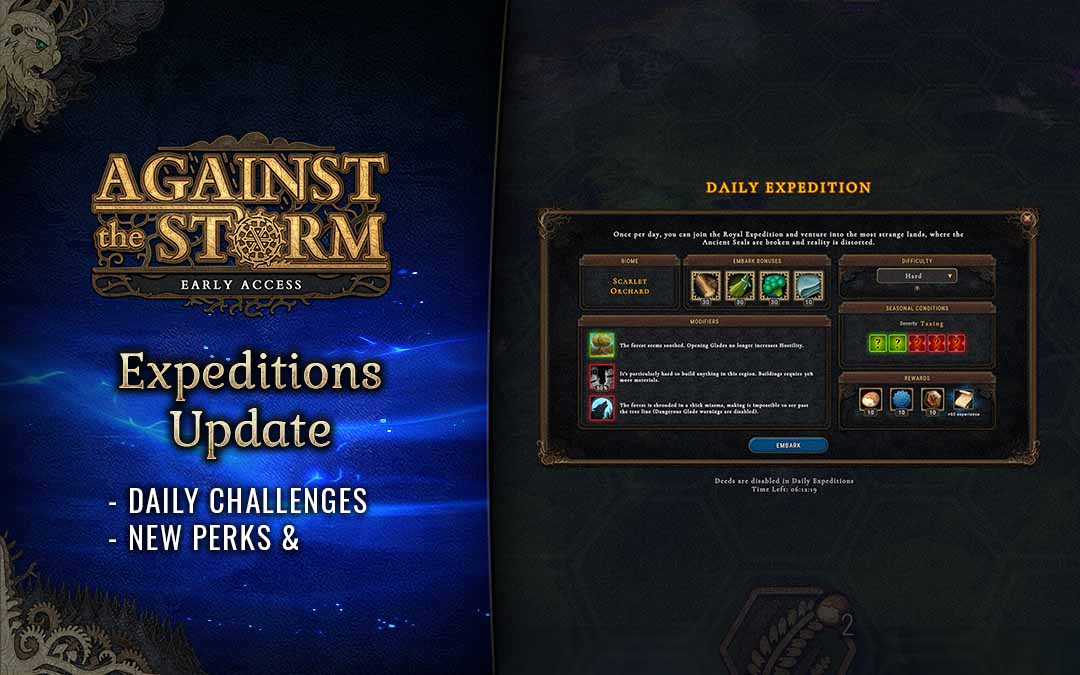 We're introducing Daily Challenges (aka Daily Expeditions) – maps with random conditions that are the same for every player. Map seeds are drawn every 24 hours and you get a score based on your performance.
But there's more! Here's the list of all major changes coming in the Expeditions Update:
Daily challenges

New perks & orders

UX improvements

Balance changes

And more
Read the full changelog and developer notes here: Expeditions Update.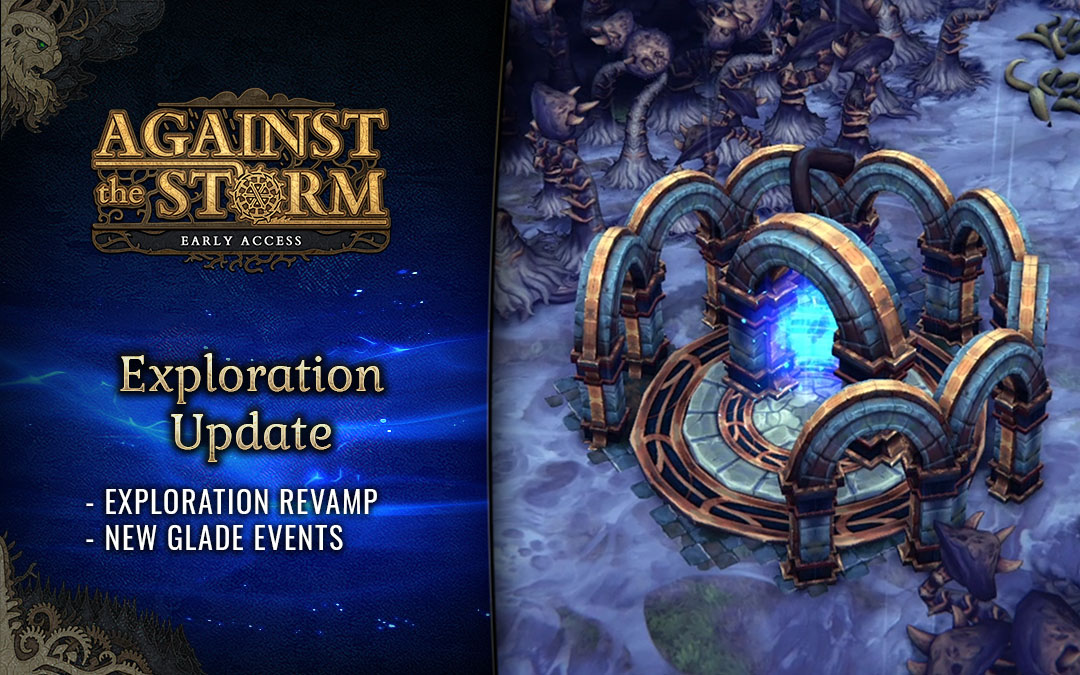 In this update, we focused on two main things: the exploration of the forest, and the mechanics behind service buildings (such as the Tavern, Library, Temple, etc.).
The major features include:
Exploration revamp

New glade events

Expanded service buildings

Lore tablets

And more!
Read the full changelog and developer notes here: Exploration Update.
We introduce the new biome (winner of the first in-game Community Vote). The Coral Forest biome is inspired by the ideas from the Community Brainstorm. In this marvelously colorful land, you will encounter new unique types of trees covered by mysterious coral growth. 
Our main goal with this update (besides giving you a new and exciting biome to play in) is to make the game's difficulty curve a bit less steep and make the experience overall a bit more forgiving to new players – hence the further changes to the Resolve balance and the new Order system.
What's new:
New biome (Community Vote winner)

Orders' generation revamp

New orders

Resolve balance improvements

Community-inspired improvements

And more!
Read the full changelog and developer notes here: Coral Forest Update.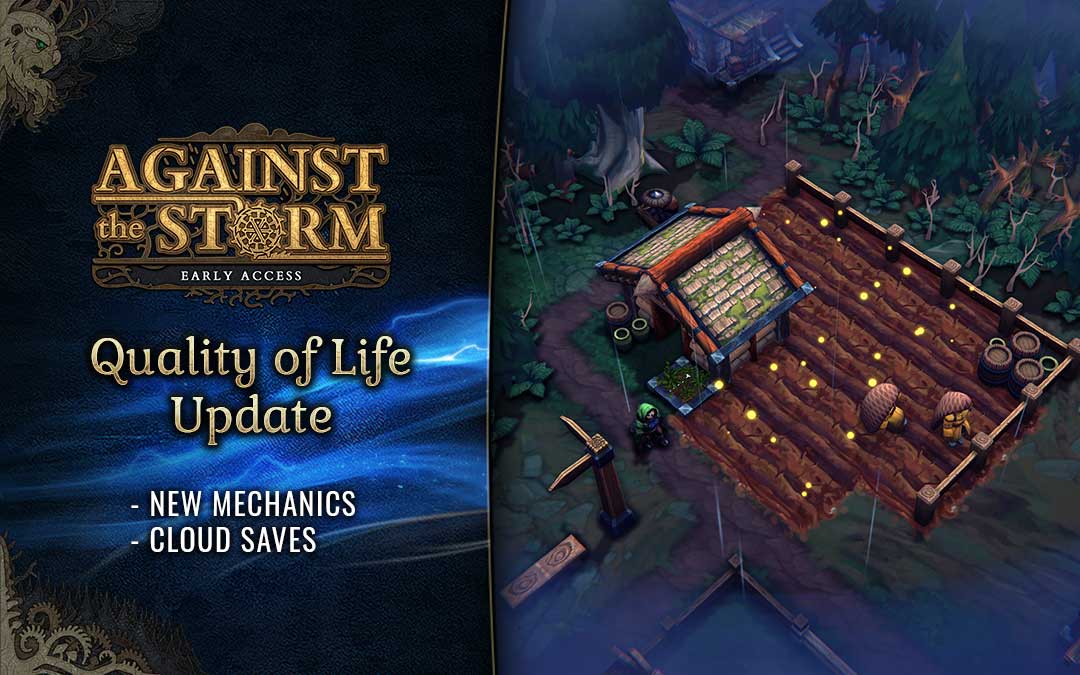 We present to you the second Early Access update. While it might not seem so plentiful with content as the previous one, we added dozens of improvements that boost the quality of the game and will make it more convenient for you to play.
What's new:
New mechanic: farm field preparation

New mechanic: newcomers bringing Goods

Resolve rebalance

Community-inspired improvements

And more!
Read the full changelog here: Quality of Life Update.
Enter the Cursed Royal Woodlands, which were improved both visually and gameplay-wise since their last appearance in the Demo. Play in this spooky biome to unlock new themed decorations and make sure to test out the new perks while you're at it!
What's new:
Cursed biome

New decorations

New perks

New deeds

Community-inspired improvements

And more!
Read the full changelog here: Cursed Update.
Community Vote #2 Results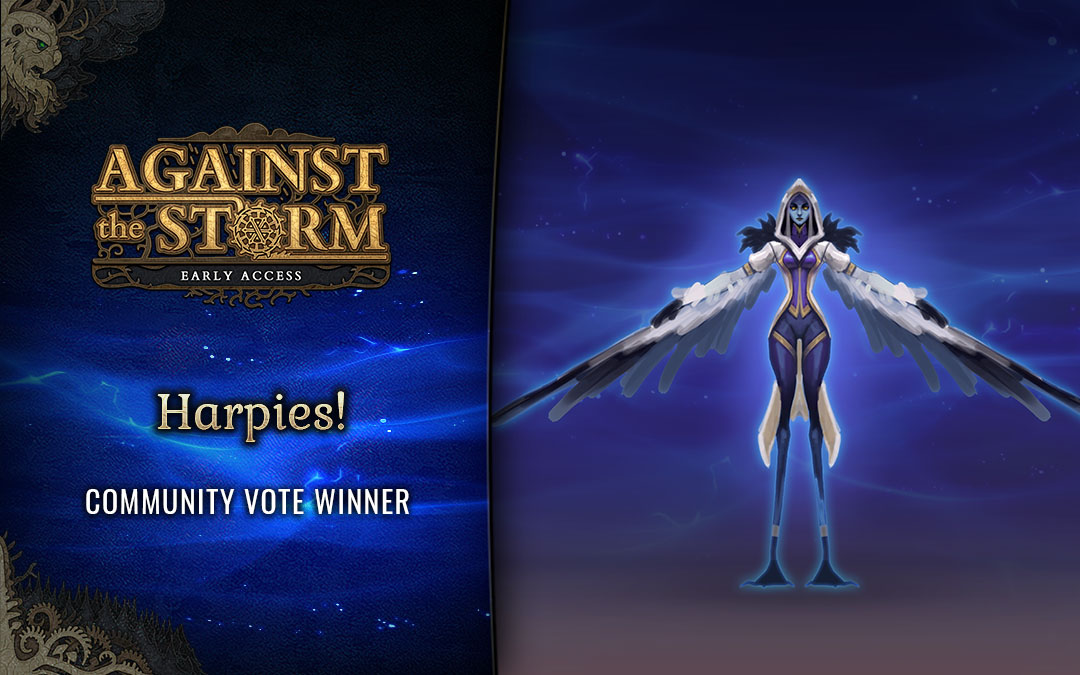 Harpies – 66,5%

Numbats – 33,5%
Harpies received the majority of your votes and will be added to the game in 2022 as the 4th playable species.
Harpies are a nimble and elegant species that lost the ability to fly due to centuries-long exposure to the Rain.
Community Vote #1 Results
New biome – 54%

Special abilities system – 46%
It's a clear sign that you want us to focus on the new biome first. It will be our main goal this quarter.
We are now picking from the new biome ideas that were shared during the Community Brainstorm. We will share more news soon!
The special abilities system is also planned to be added but further down the road.
We designed Against the Storm to thrive in Early Access and we strongly aim for community-driven development. We are capable of adding new features and improvements based on your feedback, so don't hesitate to share your impressions and ideas with us.
Community-inspired changes
Percentage of all changes
Join the community and play your part in the development of Against the Storm:
Show your support
We are very much grateful for your involvement. It keeps us motivated and helps the game grow. If you want to further support the development, please help us spread the word about the game. We appreciate every comment, every retweet, and all other initiatives. We are present on major social platforms:
Against the Storm is a roguelite city builder set in a fantasy world where it never stops raining. You are the Queen's viceroy — a pioneer sent into the wilds to establish and manage new settlements inhabited by beavers, lizards, and humans.
Your goal is to survive long enough and gather the valuable resources necessary to rebuild and upgrade the Smouldering City. It's the only safe haven against the Blightstorm — a vile cycle of destruction ravaging everything in its path. Do you have what it takes to weather the storm?
Out now in Early Access:
May the storm be gentle on you,
Eremite Games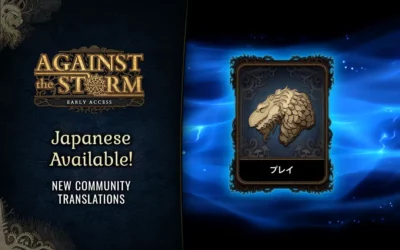 Recently, we introduced the first community translations to 'Against the Storm'. Thanks to Poge's tremendous work, you can now enjoy the game in...
read more