Dear Viceroys!
The 6th Early Access update is here to make your experience even more enjoyable! Heavily inspired by your feedback, we added:
Buildings cards improvements

Production & Resource overlays

Multiple UX and UI improvements
Please consider rating Against the Storm on Metacritic if you like the game and the new changes!
Check out our Update notes for an in-depth overview of the major changes and the full changelog below.
Our first update for 2022 is mainly focused on the quality of life features and UX/UI improvements inspired by our awesome community. It's a smaller patch this time due to the holiday break, but don't worry, bigger changes are coming soon, with Harpies being scheduled for release in February 2022.
Speaking of Harpies, the team has their hands full with work on the 4th species. And now we want to give you a sneak peek into the design ideas for Harpies' buildings.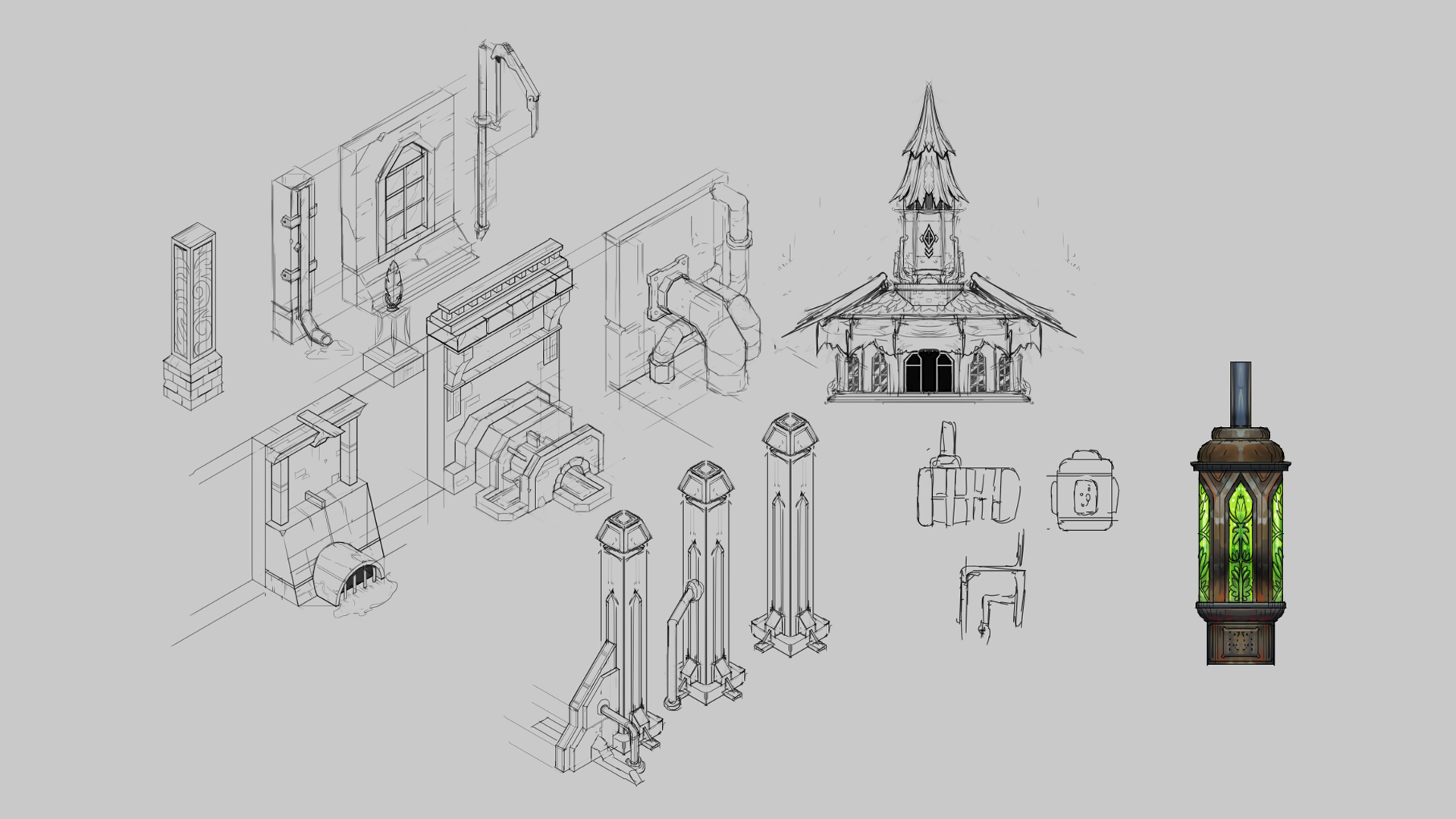 Harpies' buildings concept art
The most important changes in the Quality of Life Update 2 include improvements to the building panel and construction menu UI, production & resource overlays, continuous construction, new perks, and daily modifiers, as well as some smaller UX improvements and balance changes. Our goal was to make your experience with Against the Storm a more pleasant one in general and to smooth some of the rough edges that you mentioned. This is by no means the last patch of this kind and you can expect more UI/UX improvements to be released in between larger content drops.
We'd also like to take this opportunity and once again thank you for all the amazing feedback you provided. We hope that you had a smooth transition into 2022 and that you'll enjoy the new update.
Changes marked with ⚡ were inspired by the community.
New content and features
Added 3 new effects to the Daily Modifier pool:

The Generous Envoy

– You have preferential treatment in the Queen's Court. The pool of Order choices is bigger by 1.

Under the Queen's Eye

– The Queen has a close interest in your endeavors. You can't choose Orders.

Royal Tax

– The Crown requires you to contribute to the Royal Treasury. At the end of each Drizzle, you have to pay 1 Amber for every 3 villagers. If you don't, 2 people will leave.

Added 4 new Cornerstones:

Flame Amulets

– An artifact infused with the power of the Holy Flame. Hostility from Woodcutters is decreased by 1.

Work Safety Guide

– A standardized set of rules. Every 2 villagers with the need for Education fulfilled increase global production speed by 5%.

Luxury Tax

– Amber is worth 5% more for every 2 villagers with the need for Luxury fulfilled. 

Letters to the Citadel

– Reputation from Resolve grows 5% faster for every 2 villagers with the need for Leisure fulfilled. 

Experimental only – added a community translation into Japanese (thank you @Poge for your amazing work!)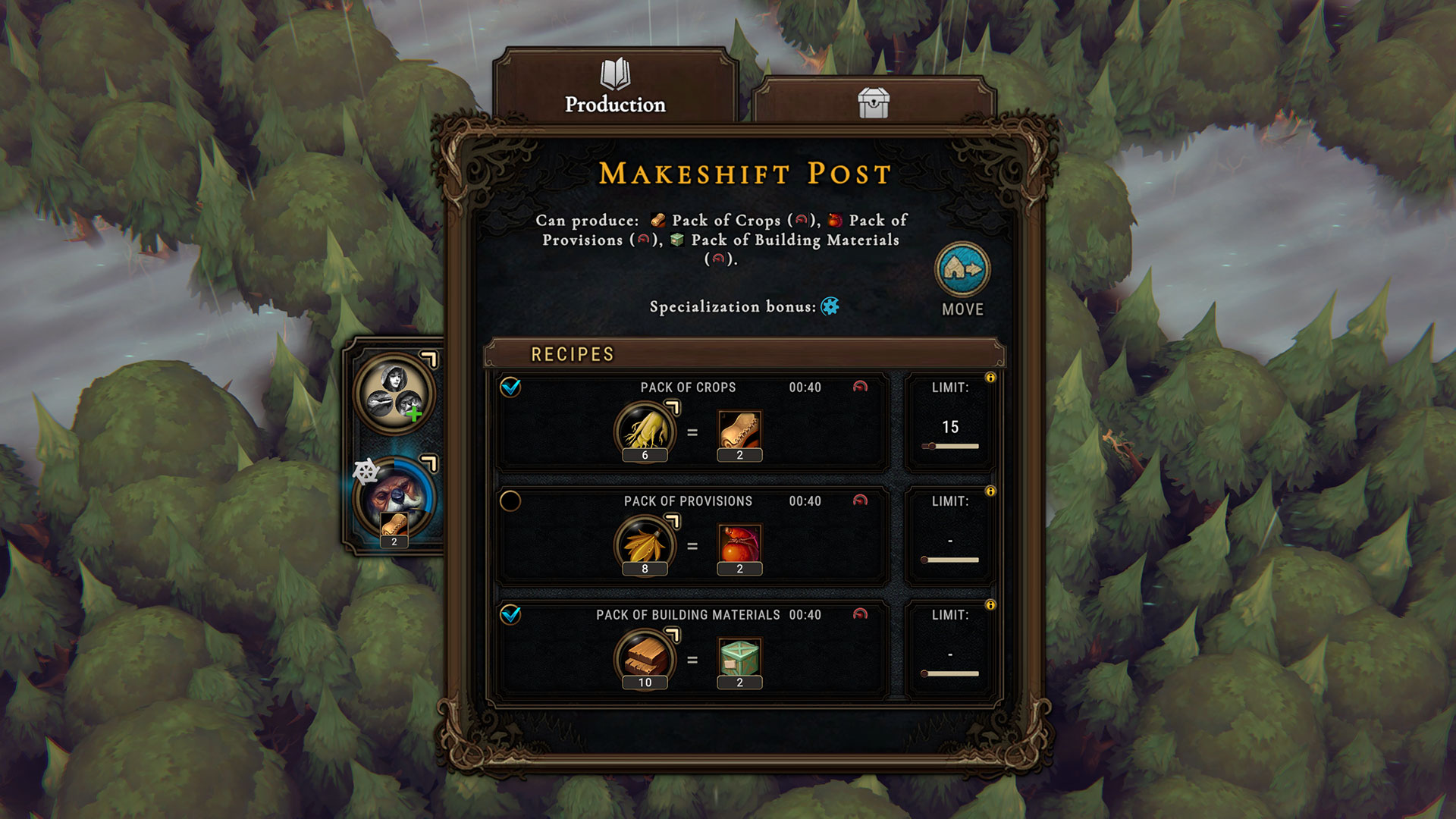 Balance
⚡ Small Glades now give fewer Hostility points for discovering them (5 instead of 10)

⚡ Decreased the Internal Storage size for the Clay Pit and Greenhouse from 30 to 20.

⚡ Slightly lowered the rate at which Lizards are reacting to Resolve changes. They now should be a bit easier to maintain in harsh situations.

⚡ Changed the goods category for Clay and Stone. They are now considered crafting goods, not building materials. 

⚡ The Cellar can now be built on Fertile Soil.

⚡ Lowered production times for recipes in the Ranch.

⚡ Negative Hostility effects (such as the ones in Dangerous Glade Events) now scale with difficulty (this is the first step before more effects and requirements will start to scale)

⚡ Some specialization slots in buildings have been adjusted to better reflect the species' character. More changes will come with the harpies update. 

Added Resin as an option to the Crystalized Dew recipe.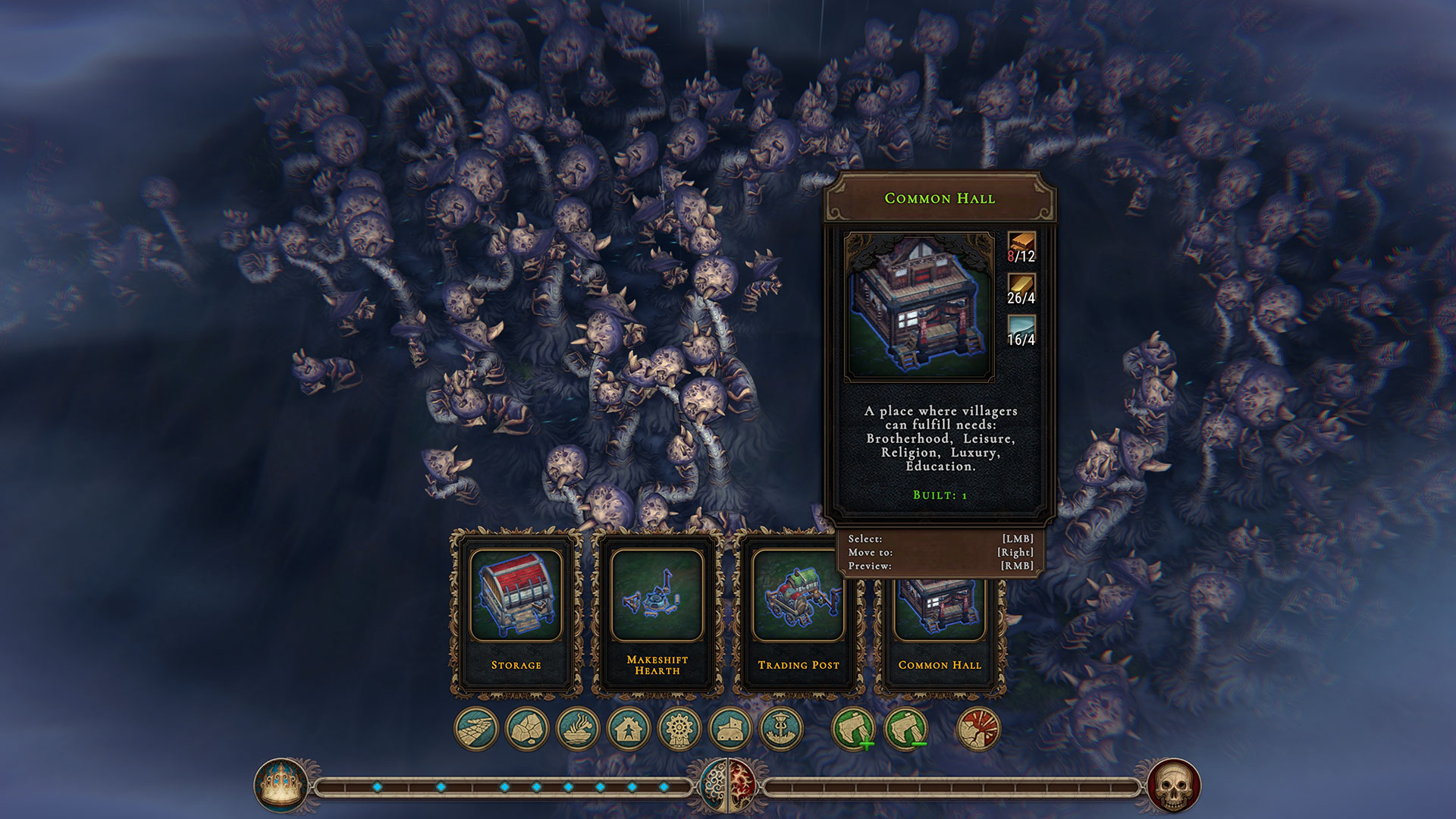 UI/UX improvements
⚡ Redesigned the building card preview in the construction menu.

It now shows you how many buildings of a given type you have.

There is a new "shortcut" section with possible keybinds and actions for a building card

Pressing the [Right Mouse Button] on a building card will now display a building preview (with recipes and effects) 

Pressing the [

Arrow Keys

] while hovering over a building card will now cycle through all buildings of the same type in your settlement.

⚡ Redesigned the UI for production buildings.

The building panel is now divided into 3 tabs: Production, Storage, and Effects. 

Added an "Ingredients" section to the Storage Tab which displays goods being stored in a given building for use in Recipes. 

Added an option to return selected ingredients to the main storage.

Added a counter below the building name for buildings of the same kind. 

Added the option to cycle through all buildings of the same kind with arrow keys or arrow buttons next to the building name.

Added a new and bigger "Effects & Upgrades" section in the Effects tab that lists all perks or Cornerstones influencing a given building.

Added a "Specialization bonus" section which lists the specializations of a given building. 

⚡ Added a Production Overlay. Now after pressing and holding [CTRL] you will be able to see the recipes for buildings in your settlement.

⚡ Added a Resource Overlay. Now after pressing and holding [B] you will be able to see icons above resource nodes around you. 

⚡ Added a shortcut for Continuous Construction. Hold [SHIFT] when building something and you won't exit construction mode after placing a building.

⚡ Added a preview button for building unlocks in the Upgrade Window in the Citadel. You can now see the recipes and effects of a given building before unlocking it.

⚡ Updated old texts in the game mentioning

Goals

to now refer to

Deeds

instead.

⚡ Alerts informing about a villager leaving or dying now redirect the player to the building the villager worked in after clicking on them.

⚡ Added a stack counter to perk tooltips. 

⚡ Added specialization icons to species descriptions.

⚡ Impatience and Reputation tooltips now display exact numbers up to two decimal places.

⚡ Added an option to switch between textboxes in building panels using [TAB].

⚡ Added burning time information to all fuel types in the Hearth. 

⚡ Cornerstones are no longer lost if not chosen in a given year. Instead, they will be queued. At the same time, there is now a new button in the Cornerstone UI to skip a given choice.

⚡ Blueprints acquired by other means (trading, rewards) will no longer appear as a choice after gaining a Reputation Point.
Bug fixes
⚡ Fixed a bug with the

Wine Shortage

modifier not being displayed on the perk HUD.

⚡ Fixed a bug with the

Clear Skies

effect being active in maps with the

Trade Block

modifier.

⚡ Fixed a bug with villager pathfinding breaking when too many speed modifying effects are active. 

⚡ Fixed a bug where items carried by villagers would randomly expand or squash.

⚡Fixed a bug with Caches found in Glades not counting towards "Solve Glade Events" requirements in Orders. 

⚡ Fixed an issue with

Ancient Tablets

not being displayed in the Goods HUD. 

⚡ Fixed an issue with all farming perks (bonus to Small Farm, Homestead, Herb Garden) having the same name. 

⚡ Fixed a bug with

Efficient Brewing

still being available in some Cornerstone choices.

⚡ Fixed a bug with production speed effects not affecting recipes in buildings correctly.

⚡ Fixed an issue where the game would sometimes crash while saving.

⚡ Fixed a bug with the Clear Skies effect only affecting trader arrival times when the trader started their journey in Drizzle.

⚡ Fixed an issue with faction town names repeating.

⚡ Fixed a rare bug with all UI texts being invisible. 

⚡ Fixed a bug with the game unpausing when opening the Trade Route window from the Trader Panel. 

⚡ Fixed a bug that caused some towns on the World Map to have empty nameplates. 

⚡ Fixed a rare bug where the Trade Route Panel would not open after reloading. 

⚡ Fixed a bug where the

Ruined Settlement

modifier was considered a negative effect. 

⚡ Fixed a bug with the

Blightrot

Resolve effect not stacking correctly.

⚡ Fixed a bug with the

Quick Deliveries

perk being incorrectly applied to some recipes (or not applied at all). 

⚡ Fixed a bug with the

Fragrant Roots

perk incorrectly counting cycles instead of goods produced.

⚡ Fixed an issue with perks like

Ancient Pack

of

Mist Piercers

being offered on maps with a Glade information block modifier. 

⚡ Fixed a bug with the Hidden from the Queen perk incorrectly blocking Impatience gains from all sources. 

⚡ Fixed a bug where season duration effects could break the calendar and award Cornerstones twice in a row or not at all. 

⚡ Fixed a bug with ore deposits being visible through the fog in undiscovered Glades.

⚡ Fixed an issue with unlocked Blueprints showing up as possible Reputation picks.

⚡ Fixed a bug with the

Protected Trade

perk showing incorrect values in its tooltip. 

⚡ Updated the

Wildfire

icon to now also display flames. 

⚡ Fixed an issue with incorrectly scaled 4 digit numbers in the Hostility Points counter in the Hostility tooltip.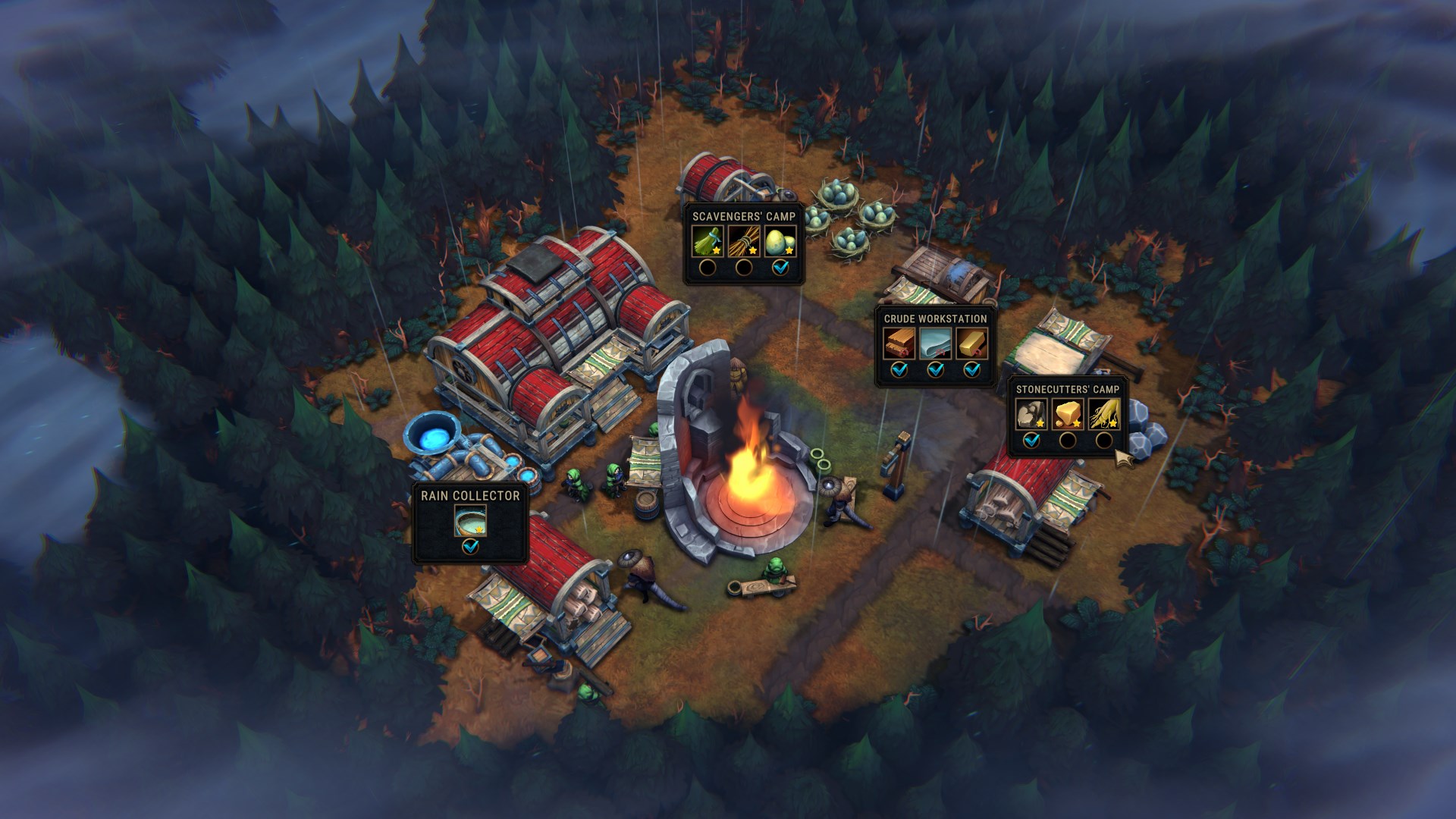 Production overlay [Ctrl]
Other
⚡ Updated the description for the

Hunger

effect. It now informs about the penalty stacking with every break.

The eye icon for the building preview has been replaced with a magnifying glass icon.
Please make sure to update the game! Also, you can always track the progress of reported issues on our Public Bug Tracker.
We're happy to introduce the new Suggestions tool.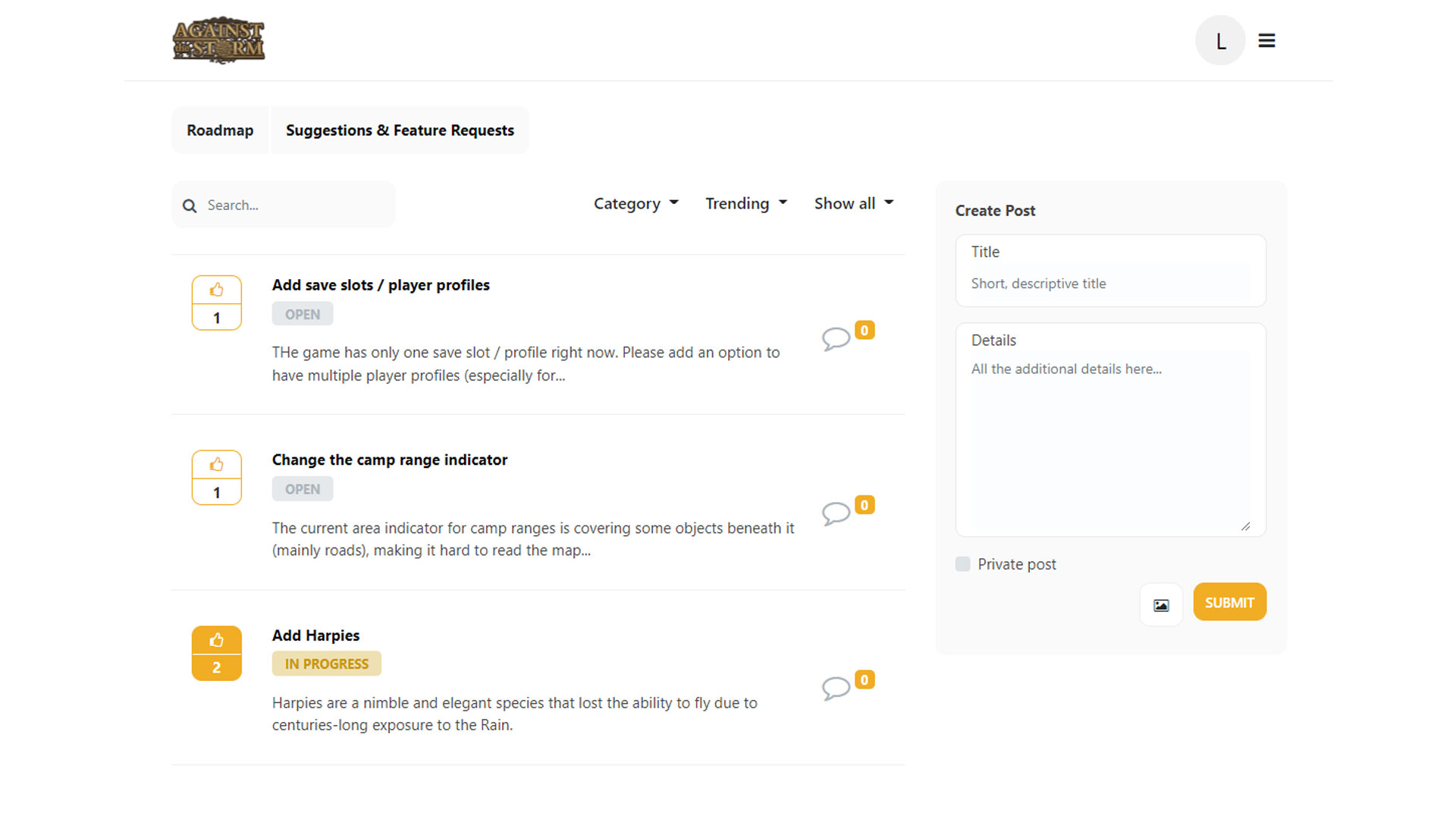 From now on, you will be able to post suggestions and vote on them to help us understand how important they are to you.
 Posting suggestions is easy:
Login or use anonymously

Make sure your suggestion hasn't been posted already

Start typing in the Create Post panel on the right

Submit
This will be our main source of information regarding your suggestions and their priority. You can still use Discord's suggestion channel or Reddit's suggestion flair to discuss ideas before posting suggestions.
We encourage you to vote on other players' ideas too.Please continue to report bugs via the in-game Reporting Tool or on our Discord and Reddit.
SHOW YOUR SUPPORT
If you want to help us grow the Against the Storm community, there are a few things you can do:
Truth be told, we appreciate all kinds of support. Be it feedback, words of encouragement, or casual activity on Discord. It helps a lot and we're very much grateful!
Now, enjoy the new update and let us know what you think!
May the storm be gentle on you,
Eremite Games team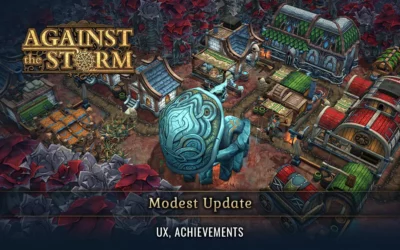 Greetings, Viceroys! The Cycle is nearing its end... Today's update is the last before 1.0 release. As we're wrapping things up, the update might...
read more