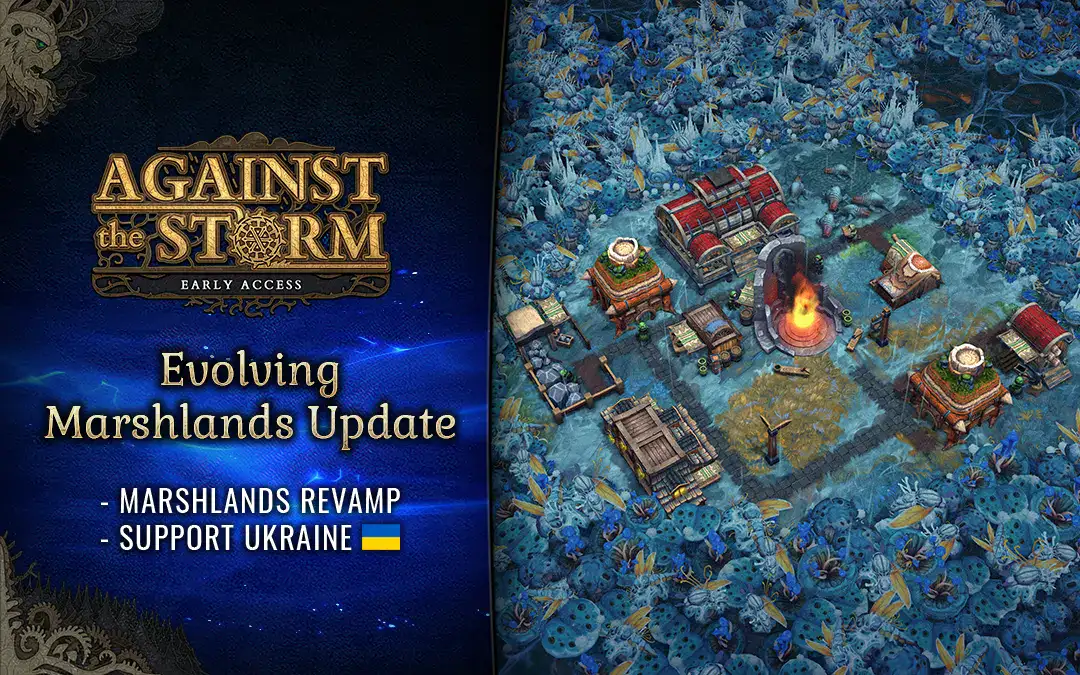 Greetings Viceroys!
Can you believe it's the 10th Early Access update already? Round number fans rejoice! In this new update, Marshlands – unlike Pikachu – are evolving. Here's what's new:
Revamped Marshlands

New mechanic: giant organisms

Tutorial improvements

Updated Help window

And more!
Continue reading for developer notes and the full list of changes, or jump straight to the specific section:
Although this time, I hope you'll check our message.
Ukraine, our neighboring country, was invaded last week. This is a heartbreaking tragedy. At Eremite Games we will always stand against war.
Our players, our colleagues, and their families need immediate help. Earlier this week we donated to Polish Humanitarian Action and we encourage you to play your part as well. There are many ways in which you can help.
Donate
Donate to humanitarian organizations:
Buy games
Developers are donating profits from their games to humanitarian organizations:
This War of Mine + DLCs on all stores and platforms (until March 3)

Chernobylite (until March 6)

Darkwood (until March 8)

Paradise Lost (until March 4)

All games from Crunching Koalas on all platforms (until March 4)

Machinarium (until March 4)

CHUCHEL (until March 4)

Creaks (until March 4)

Slipways (until March 4)

Cyber Protocol (until March 31)

Book of Demons (until March 7)
You've proven many times to be a fantastic community. Help us make a difference!
This update marks a transitional phase – as we just released our biggest content batch — 'Grace of the Harpies' — and are slowly preparing the next four-month-long roadmap for you. So please be patient, the news will come very soon! In the meantime, we hope you enjoy what we've prepared over the last two weeks.
In today's update, we focused on two things: improving the tutorial experience for new players, and revamping the Marshlands. We also changed the layout and content of the "Help" window, which is another step in turning it into a proper Wiki for the game.
Forbidden Glade on revamped Marshlands
First off – the Marshlands. We decided to change them both visually and mechanically because we felt that they were lacking in both respects. Before the 'Grace of the Harpies' update, the Marshlands were an environment mostly focused on Lizards, but as the species roster can now be very different and not even include Lizards, we wanted to make this biome more universal.
Additionally, after we introduced the Coral Forest, the Marshlands seemed way less interesting and fun when compared to the newly added environment. This is why we completely overhauled the looks of this biome and added a new mechanic to it. From now on the Marshland's main characteristic is its focus on gathering. They are home to ancient organisms – giant, virtually infinite resource nodes that can be found in Forbidden Glades (at the cost of the amount of Fertile Soil). There's also now a new effect that increases gathering speed based on the number of workers assigned to camps. More biome revamps will come in the future – we still want to take another look at the Scarlet Orchard and the Cursed Royal Woodlands, so stay tuned!
Revised tutorial and updated Help window
The second major change is the tutorial. We revised the first two maps of the game and introduced some improvements that will hopefully make it easier to learn the complexities of Against the Storm for new players. Some notable changes are: only one Order is displayed at a time, there are new Orders that require changing ingredients in recipes, and all tutorial texts now require confirmation before moving to the next step.
We also updated the "Help" menu with some useful information and added a "Read More" section to the HUD, so the player is occasionally directed to it. However, this is by no means the last update to the game's tutorial – we still want to add a proper Wiki to the game and expand the new player experience by adding additional tutorials for the World Map, Citadel, trading, etc.
Changes marked with ⚡ were inspired by community. 
New content and features
The Marshlands have been revamped. 

Added a new mechanic – giant organisms. There are three new types of enormous resource nodes (with 999 charges) that can be found in Forbidden Glades in the Marshlands. More types of nodes are yet to come in the future!

Dead Leviathan – Meat, Leather, Coal, Jerky, Crystalized Dew

Giant Proto Fungus – Mushrooms, Pigment, Waterskins, Sparkdew, Pickled Goods

Giant Proto Wheat – Grain, Reeds, Herbs, Oil, Amber

Added a new biome effect –

Gathering Knowledge

. Every two workers assigned to a camp will increase the global gathering speed by 10%. 

Changed the models and textures for both trees and the ground. Added more variety of plant life in general.

Updated the generation rules for the forest in the Marshlands. Forbidden Galdes should be a bit more common and should spawn a bit closer than in other biomes.

Lowered the amount of Fertile Soil in the entire biome.

Added more than 20 unique variants of Forbidden Glades to the Marshlands.

Forbidden Glades now have fewer small resource nodes to balance out the fact that they contain an almost infinite big node in them. 

Removed the

Clay Deposit

from the Marshlands. 

⚡ The tutorial has been updated.

Tutorial texts are now displayed in textboxes and require confirmation before continuing to the next step. 

Tutorial texts are now delivered by the Queen's Envoy. Text is appearing gradually, with a new sound effect attached to it. 

Added new texts explaining Reputation and Blueprints to the first tutorial map.

Added a "Read More" section to the HUD, where important information about features and mechanics is displayed during the tutorial. Clicking a "read more" notification will open the Help window and show a detailed explanation for a given aspect of the game.

Orders in the tutorial no longer appear based on time. A new Order will appear only after finishing the previous one. 

Added new types of requirements to Orders in the tutorial – changing ingredients in recipes.

Added orders based on building camps and delivering goods to the first tutorial map. 

Removed one Order for packs of goods from the second tutorial map.

The Stonecutters' Camp, Scavengers' Camp, and Shelter are now gradually given to the player as Blueprints in the tutorial.

Species' needs are now highlighted during the second tutorial map.

⚡ The "Help" window has been updated.

Added explanations on 15 topics related to game mechanics and systems.

Added screenshots and videos to better illustrate certain systems.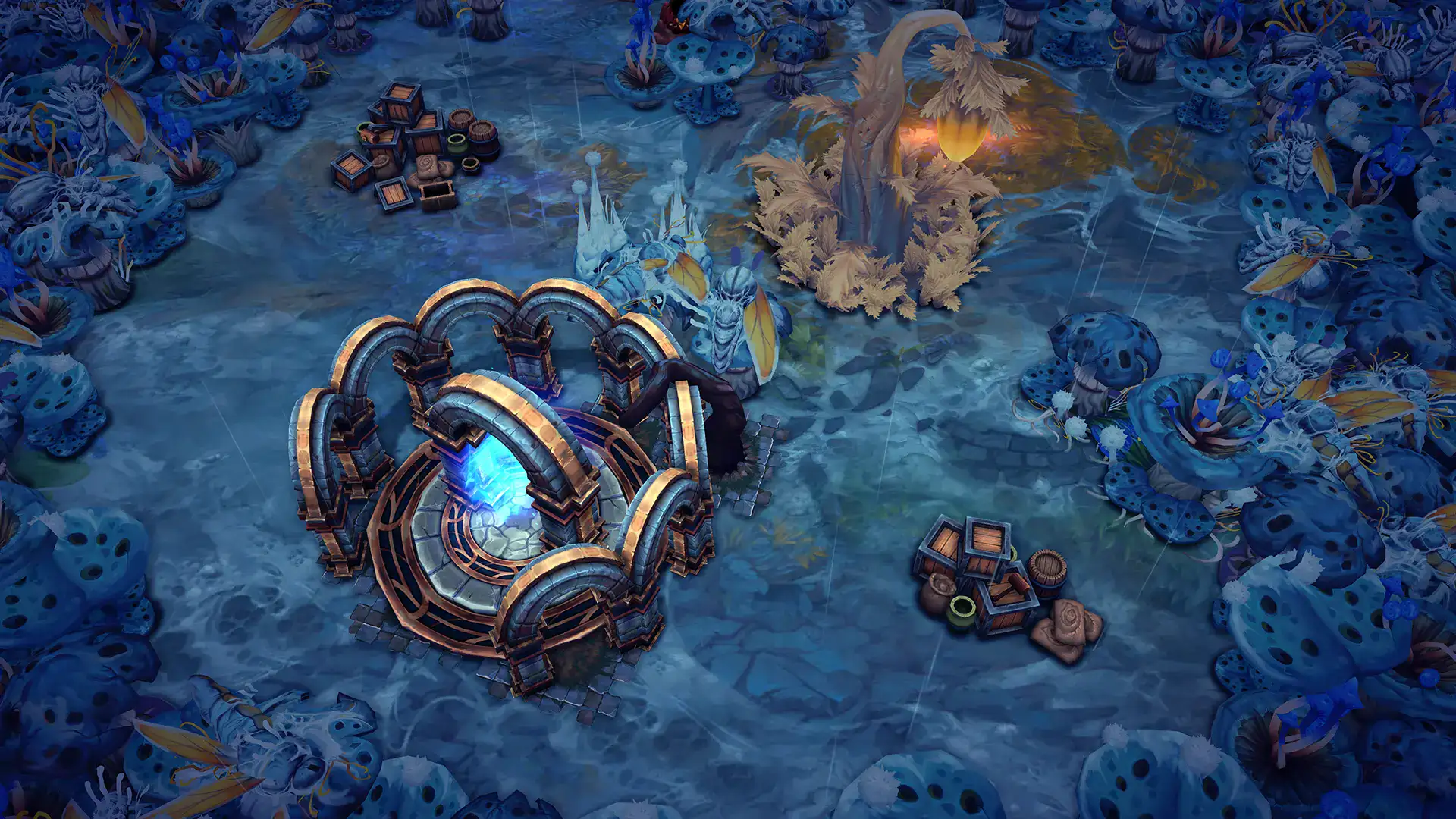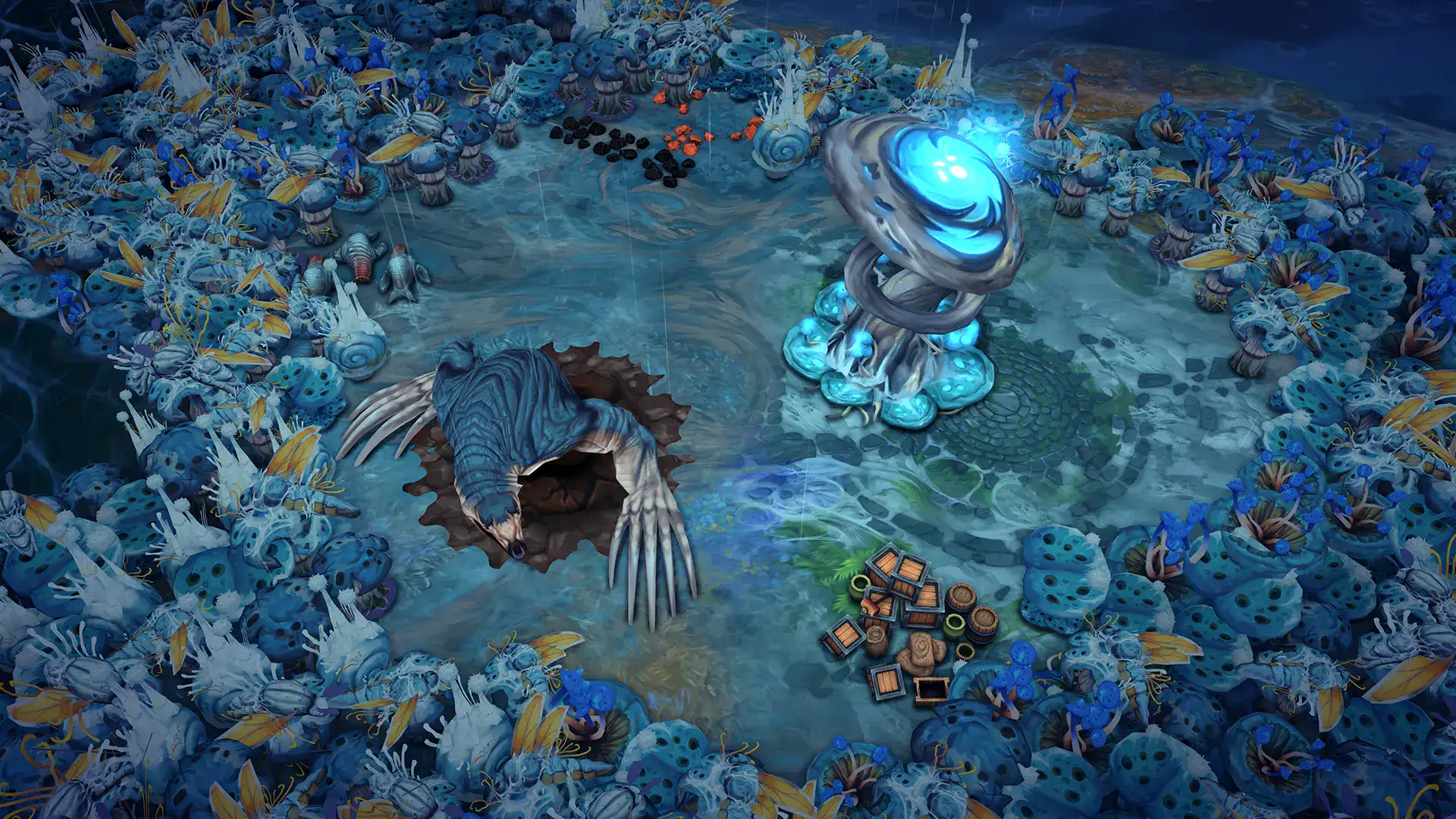 Balance
⚡ Villagers will now stop leaving after 60 seconds of positive Resolve, making it impossible to abuse the "Favoring" mechanic in dire situations.

⚡ Increased the number of villagers sacrificed in the

Back to Nature

Cornerstone from 1 to 2. 

⚡ Cornerstones such as

Reinforced Tools

(+50% to goods produced in the Small Farm),

Reinforced Stoves

(+50% to goods produced in the Bakery), and

Advanced Brewing

(+60% to goods produced in the Brewery) will now only be offered if the player has the specific blueprint.

Reduced the number of goods gained per minute from

Delivery Line

perks that can be picked as Embark Bonuses.

Changed the construction cost of the Workshop from 2 Fabrics, 2 Bricks, and 2 Planks to 20 Wood.

Added the

Farming

(Humans) specialization to the Foragers' Camp.

Added the

Alchemy

(Harpies) specialization to the Herbalists' Camp.

Removed the

Leather Gloves

from the Cornerstone roster in the Marshlands.
UI/UX improvements
⚡ Added a tooltip showing a reward summary when hovering over the "deliver" checkbox next to completed Orders on the HUD. 

Updated the layout and activation time for tooltips when hovering over buildings with the destruction stool active.

Added information about completion time to all Glade Events and ruins. 

Unlocked buildings are now shown in the game summary after winning the tutorial.

Removed the redundant goods counter from Citadel Resource tooltips.

Removed the Hostility alerts from the tutorial. Instead, there now is a "read more" notification explaining the mechanic.
Bug fixes
⚡ Fixed a bug with incorrectly rounded Resolve when nearing the Reputation Threshold.

⚡ Fixed a rare bug with some Cornerstones effects still being active even after finishing a game.

⚡ Fixed a bug with incorrectly displayed species when scrolling in the worker assignment mode.

⚡ Fixed a bug with "extra production" effects not influencing secondary goods in trees.

⚡ Updated an old icon in Orders that require solving Glade Events.

⚡ Fixed a bug with woodcutters not displaying all the goods they are carrying.

Fixed a bug where Artisan Ruins found in Glades could not be salvaged.

Fixed a bug with Insect nodes not being highlighted when selecting a Scavengers' Camp under the effect of

Worms after the Rain

Forest Mystery.

Fixed an issue with the "Help" window now forcing a game-wide pause.

Fixed the incorrect placement of icons above some buildings (like the Rain Mill).

Fixed an issue that caused similar perks to be labeled as different rarities.

Fixed a bug with the Worker Slot Highlight [ALT] not working correctly when a building panel is open. 

Fixed an issue with the "move" button being placed too low in some building panels.

Fixed an issue with incorrectly stretched scroll bars.
Other
⚡ Turned up the default volume in the game's intro. 

Changed the icon for the

Farmer's Pack

Cornerstone.

Improved the overall game performance.
We want to thank everyone who contributed to this update by sharing suggestions and reports. You're awesome!
Please make sure to update the game. Also, you can always track the progress of reported issues on our Public Bug Tracker.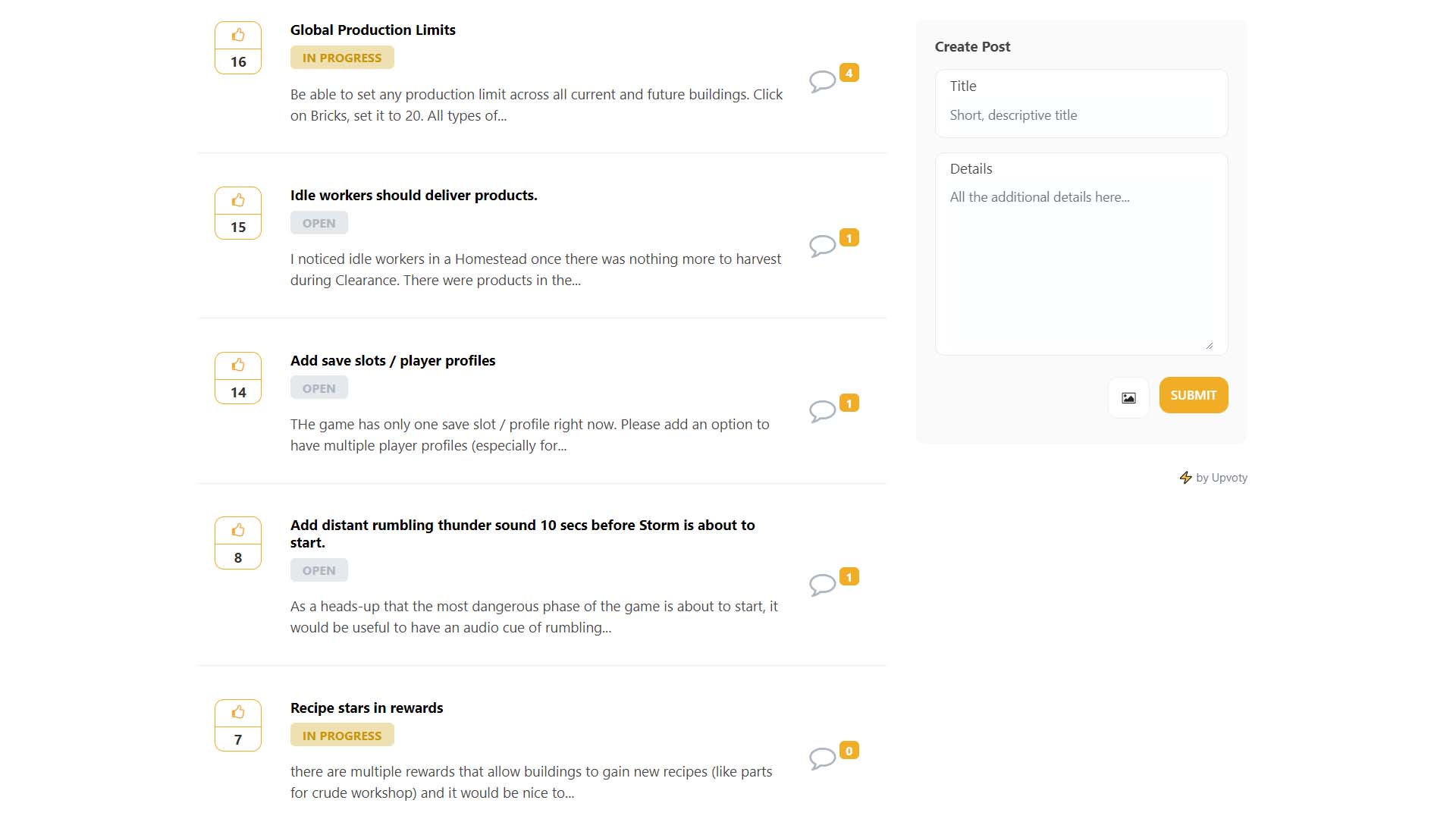 Posting suggestions is easy:
Login or use anonymously

Make sure your suggestion hasn't been posted already

Start typing in the Create Post panel on the right

Submit
If you want to help us grow the Against the Storm community, there are a few things you can do:
Truth be told, we appreciate all kinds of support. Be it feedback, words of encouragement, or casual activity on Discord. It helps a lot and we're very much grateful!
Now, enjoy the new update and let us know what you think!
May the storm be gentle on you,
Eremite Games team
Current Early Access version: 0.28.1R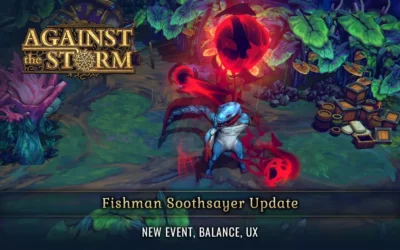 Greetings, Viceroys! Our new reports speak of the Fishman Soothsayer. He does not speak, though you can hear his voice. His eyes are blank, yet you...
read more