Dear Viceorys!
The day has come. Against the Storm is OUT NOW in Early Access!
'Against the Storm' is a roguelite city builder set in a fantasy world where it never stops raining. You are the Queen's viceroy — a pioneer sent into the wilds to establish and manage new settlements inhabited by beavers, lizards, and humans.
Watch the Launch Trailer:
FEATURES
Construct an endless number of cities in a colony-building game amped up with roguelite replayability

Meet the needs of the growing population of beavers, humans, and lizardfolk

Tame the three rain seasons which dictate the life of your settlements

Permanently upgrade your Citadel while the recurring Blightstorm reshapes the World Map

Adapt to the constantly changing conditions influenced by random perks, blueprint drafting, and combos

Thrive or suffer from procedurally-generated content on glades you explore in Dungeon Keeper-style
We wish you lots of fun with the game. You can expect many updates during Early Access and if you want to share your ideas and feedback please join us on Discord or Reddit:
May the storm be gentle on you,
Eremite Games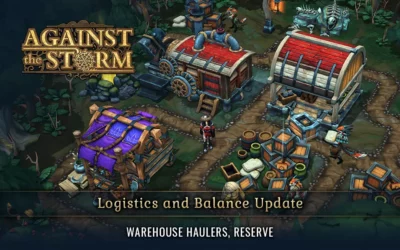 Greetings, Viceroys! We're back with yet another portion of features, UX improvements, and balance changes to keep you on your toes. What's new:...
read more