Dear Viceroys!
You can now download the new update for Against the Storm – Royal Woodlands Demo. It's most likely the last update for the demo as we're entirely focused on the early access version which releases on October 18.
What's new:
Stone Roads

Perks & Modifier inspired by

Community Brainstorm

Minor balance changes

Fixes & improvements
You can check the full changelog below. But first, catch up with the latest news from gamescom 2021!
Release Date Trailer & Pre-Purchase
Against the Storm appeared on this year's gamescom as part of IGN Awesome Indies Show and Indie Arena Booth. We prepared a new trailer for this occasion:
The trailer features the revamped Marshlands biome, new buildings, and dangerous threats, such as Wildfire and Drainage Mole. We also included settlements created by our Discord community as part of the Screenshot Contest.
The game will be released on October 18 this year in Early Access on Epic Games Store. You can pre-purchase the game already and save 10%:
The early access version will unlock for you on October 18. The World Map resources and Upgrades which you acquire in the demo will be available in the full game.
Changelog
Added Stone Roads – they can be picked in the Embark panel once you reach level 3

Added new World Map modifier:

Barren Lands

– there is no fertile soil on the map (Community Brainstorm idea inspired by Aarklight)

Added new perk:

Back to Nature

– kills 2 villagers every Drizzle, but you get more crops from fertile soil (Community Brainstorm idea by Aarklight)

Added new perk:

Sick Trees

– increases woodcuting speed but there's a chance Woodcutter won't bring any Wood (Community Brainstorm idea by Epidj)

Added new perk:

Fragrant Roots

– gives Incense for Root yields

Rebalanced

Short Temper

perk – it now removes 3 Impatience Points for every 1 Reputation Point gained

Rebalanced Fuel – they now give slightly less Resolve

Corrected several texts

Multiple fixes and improvements
The current version number is: Beta v0.8.25R
We only added a few perks from the Community Brainstorm but you can definitely expect more of them in the early access version. We just don't want to spoil you too much 😉
Your feedback and support
How do you like the new changes? Share your impressions with us on Discord!
If you want to support us, please continue to share your awesome ideas and suggestion. You can also let your friends know about Against the Storm and pre-purchase the game with 10% discount:
Enjoy the new update!
May the storm be gentle on you,
Eremite Games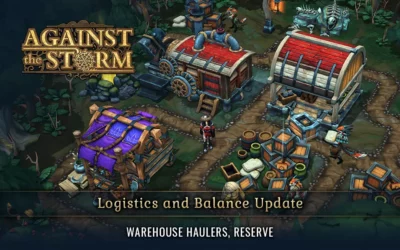 Greetings, Viceroys! We're back with yet another portion of features, UX improvements, and balance changes to keep you on your toes. What's new:...
read more