Save 10% on Against the Storm during Epic Games Store Holiday Sale!
Get the additional $10 discount with Epic Coupon!
We sometimes get asked if we intentionally applied the discount to disable Epic Coupon availability for Against the Storm. The short answer is: No. It would be against our best interest.
The Epic Coupon eligibility varies across regions. For example, it is applied to games that cost at least 14.99 USD in the US or 14.99 EUR in Germany. So, the Coupon can be applied to Against the Storm in the US (or here in Poland and many other countries), but unfortunately not in i.e. Germany or Canada. We have no control over Epic Coupons minimum thresholds. You can read more about Coupon's Currency Minimum in the official FAQ: https://www.epicgames.com/store/en-US/coupons/holiday-sale
The game is discounted because we participate in the Epic Games Store Holiday Sale. Participating in sales allows us to appear on special sales pages and reach more players who may not be aware of our game. The discount and Coupon last as long as the Holiday Sale lasts, hence they end on the same date.
The Coupon is paid for by Epic Games. It is in our best interest to make the Coupon available to as many users as possible because you get the game cheaper and we don't cover the Coupon's cost. Manipulating prices and discounts to make the Coupon not applicable is counter-profitable for us.
We're sorry to hear that some of you are unable to use the Epic Coupon for Against the Storm because the game was discounted.
Keep your eyes open – there will be more opportunities to get Against the Storm on sale in the future. In the meantime, you can also try the updated Demo version which we recently released.
May the storm be gentle on you,
Eremite Games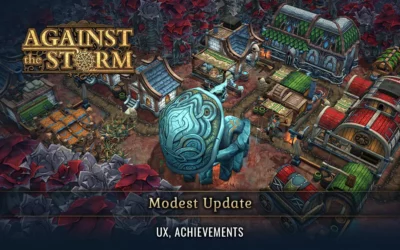 Greetings, Viceroys! The Cycle is nearing its end... Today's update is the last before 1.0 release. As we're wrapping things up, the update might...
read more