Dear content creators and reviewers!
You can now request the Against the Storm review key:
 We will send the keys along with more information and assets to selected creators before the October 18th release.
 So if you make:
gameplay videos

reviews

guides

livestreams

or other multimedia content
Request the key today!
If you create content on other platforms than the ones supported on Woovit and Keymailer, drop us a message via contact@eremitegames.com.
Earn 10% from each copy sold
If you participate in Support-A-Creator program on Epic Games Store, you can get 10% of each copy sold via your Creator Code. For more information, refer to: https://www.epicgames.com/affiliate/overview 
 May the storm be gentle on you,
Eremite Games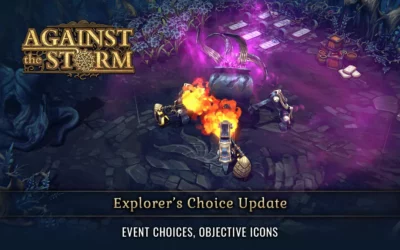 Greetings, Viceroys! We have a new update or two coming your way. Here's what's new in today's Explorer's Choice Update: Event Choices system (glade...
read more