Dear content creators and reviewers!
You can now request the Against the Storm review key:
 We will send the keys along with more information and assets to selected creators before the October 18th release.
 So if you make:
gameplay videos

reviews

guides

livestreams

or other multimedia content
Request the key today!
If you create content on other platforms than the ones supported on Woovit and Keymailer, drop us a message via contact@eremitegames.com.
Earn 10% from each copy sold
If you participate in Support-A-Creator program on Epic Games Store, you can get 10% of each copy sold via your Creator Code. For more information, refer to: https://www.epicgames.com/affiliate/overview 
 May the storm be gentle on you,
Eremite Games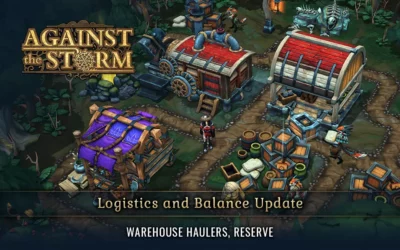 Greetings, Viceroys! We're back with yet another portion of features, UX improvements, and balance changes to keep you on your toes. What's new:...
read more